Customers' valuable feedback + our engineering abilities + new production technologies = Our leakproof "sealless" gear pumps are ready for your services. While providing zero leakage, King's magnetic pumps can also be equipped with secondary chambers for heating or cooling.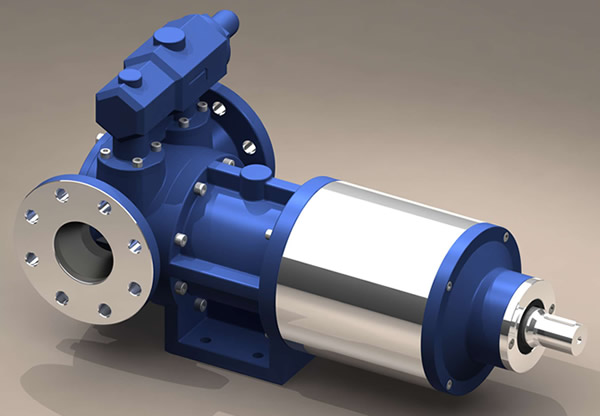 The latest point in the pump sealing is with no doubt the magnetic drive system. Magnetic drive system, mostly used in the transfer of hazardous fluids, now is being spreadingly used for the transfer of non-hazardous fluids, even lubricating oils.

Magnetic coupling pumps have no sealing elements. Due to the fact that the pump is completely closed, sealing is ensured. And absence of sealing elements, bring absence of sealing problems too.
Motor or drive unit's output moment is transferred to the pump rotor through magnetic forces and no mechanical contact is required for the transfer of force.
Cast Iron
Ductile Iron
Stainless Steel

Magnetic coupling assembly

Casing & port options
Magnetic Drive is an ideal solution for:

Hazardous liquids
Flammable liquids
Hard to seal fluids (nitro, resins, isocyanates, and alike)
Strong aromatics
Expensive liquids
Plants where leakage is absolutely unacceptable
Plants where downtime is expensive
Construction and Drive
The King Magnetically Driven pumps are offered as a foot mount pump with bracket. This feature provides an option of heating jackets. Also building empathy with end-users, our engineers offer moderate or low drive speeds for extra long life of the pumps
Performance
Capacity
0 - 50 m3/hr
0 - 220 GPM
Pressure
0 - 10 Bar-g
0 - 150 PSI-g
Suction Ability
600 mmHg
24"Hg
Viscosity
1 - 40,000 cSt
28 - 180,000 SSU